After you've sent out your initial batch of emails, it's time to promote your fundraising page to anyone who will listen.
Social media makes it simple to connect and ask for donations. The most important thing when it comes to asking for support is to keep your "ask" heartfelt. If you let your personality shine through, your social media efforts are sure to bring excellent results.
Start on by tagging those who have already donated and thanking them for their donations. When you tag someone, your post gets shared in your feed and the other person's feed too. This also sets the frame that people are already donating to your page.
Share your passion for the plunge and SONJ with your followers. This will make your posts more heartfelt and authentic. Your story can be a personal one or one that's simply about making a difference for Special Olympics athletes. Either way, if your followers understand why this event is so important to you, they're more likely to help.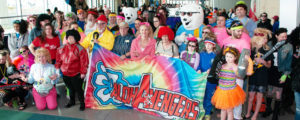 Post on multiple platforms: Instagram, Facebook, Twitter…even LinkedIn!
It's super important to put the link to your fundraising page in your bios. This will make it easy for your network to donate. And don't forget to use the event hashtag and tag SONJ.
It's easy to share your personal fundraising page on social media. Just login to your account and click the share buttons on your page to create Facebook and Twitter posts with links to your personal fundraising page. 
Before you start firing off posts, here are a few tips to keep the supporters you engage feeling more connected.
Don't make every post an "Ask".  Keep in mind that fundraising on social media is just like posting about any other topic. You don't want to sound like a broken record. Break up appeal posts with news about your progress and shout-outs to the donors who are helping you reach your goals. 
Be interactive.  Social media is a two-way street. Using a social network isn't just about sharing your own posts. It's about connecting with your network and community. You're asking your friends and followers to take interest in your cause. Return the favor by showing your community you're interested in them, too. Like, comment & share their posts.
If you show your peers that you support them, they're more likely to help you when you reach out. 
Fun Graphics:  You can create awesome graphics without being a designer using free online tools. For example, Canva is easy to use and features templates sized to standard social media dimensions. If you want to get really fancy, check out their design tutorials.
Be sure and visit the Fundraising Tools section for sharable graphics!