People are more likely to join something that they think will be successful. Now that you've had your "inner circle" jumpstart your fundraising, you can build initial momentum that creates a frame of success and motivates others to join your "winning story."
Now's the time to look through your email contacts. Which friends, family, co–workers, etc would you feel comfortable asking for a donation?
There's no perfect formula for asking friends and family for donations. But we've got some tips and tools to help guide you.
When you're writing to your contacts, just be yourself. If it feels stiff or inauthentic, scrap it.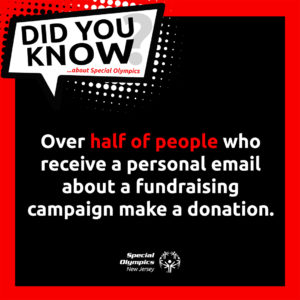 We've got an Email Template below to get you started. Just copy and paste the text into your email and add some personal flair to make it your own. Or go ahead create your own message from scratch.
Explain your connection to the event and why it matters to you. This is probably the most important element of your message. Need inspiration? We have samples of personalized emails here.
Remember to include the direct link to your fundraising page so your donors can easily make their contribution.
Email is a great way to ask friends and family for donations to support your participation and the 26,000 athletes of Special Olympics New Jersey. We've made it easy for you... copy and paste the sample email text below and customize as much or as little as you like!
TIPS
Make it personal: Tell your story. Share with others why you participate, whether it's because you're doing it for fun or because you love Special Olympics New Jersey.
If you've done this event before, share a picture of your previous plunge!
If it's your first time, share your nerves and excitement! Have fun with it!
Make a contest or game out of it: maybe the first person to donate or the largest donation gets a gift from you!
Follow-up. Be sure to say thank you to donors after they make their donation, and again after the event. Send them a picture of you at the event.
SAMPLE TEXT
You can support me in several ways. The best and easiest is to donate online. My personal page can be found at (insert personal url). You can check this page to see my goal, money raised, and a photo of me! If you can't support through a donation, why not consider joining me in the Polar Bear Plunge at Wildwood? (insert team link if you have one)
EMAIL BANNER
Include an email banner at the bottom of your email talking about your Plunge participation. It can be a sentence or two about the event or you can use an email banner graphic if the event offers one to download to show potential donors and/or teammates exactly what you'll be doing! You can even link the image to your personal fundraising page.